Get Your Copy Of The PEERtrainer Magic Fridge Recipe Guide, and A Bonus Copy Of The PEERtrainer Cheat System Absolutely FREE!
When you enter your email in the form on THIS page, we will be sending you a free copy of "The Magic Fridge: PEERtrainer's Guide To Hunger Free Weight Loss" which is a 50 page recipe guide that we normally sell for $10.
You will also be sent a copy of the innovative PEERtrainer Cheat System, which is a healthy eating and weight loss plan that is literally impossible to fail on.
Both the Magic Fridge and the Cheat System help you avoid metabolism killing foods like canola oil, corn, sugar, processed whole grains and certain forms of dairy.
We really hope you enjoy all of this, and we always look forward to hearing from you!
Regards,

Jackie Wicks, PEERtrainer Founder
Get Started Toward Cleaner, Healthier Eating, And Fail-Proof Weight Loss With These 2 Free Downloads!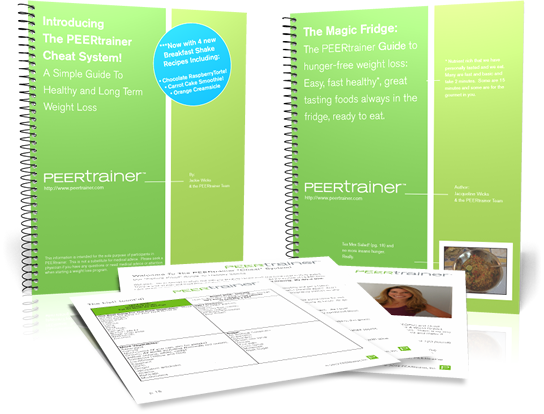 "By far one of the simplest systems I've ever tried and produced the results I wanted; it helped me lose 50 pounds and transition my way into making permanent changes in my eating style."
- Erin Evelyn, Flint, MI, USA

Included In The Magic Fridge Recipe Guide:

-Chocolate Decadence Breakfast Smoothie
-9 Spice Shortcuts That Make Anything Taste Great
-2 Easy Magic Fridge Salad Dressings
-Magic Fridge Guide To Cheap And Easy Greens
-5 Magic Fridge Kitchen Essentials That Make Your Life Easier
-Magic Fridge Snack Essentials
-Magic Fridge Lettuce Wrap Recipes Inspired By PF Changs
-No Fail Instant Access Protein Recipes
-365 Days A Year Soups That Work Like "Diet Pills"
-The Famous PEERtrainer Energy Soup Recipe
-New Weight Loss Shortcut Soup. East To Make, Easy To Eat
-Mom's Cook Crisp Gazpacho Soup Recipe
-Warm Applewood Bacon Soup Recipe
-Bottomless Tex-Mex Crunch Salad With Potato Chips (Yum!)
-Italian Salmon Scampi
-Japanese Sesame Chili (Easy!)
-Hunger Blaster Indian Chile (Guys LOVE This)
-Apple Pie For Breakfast Recipe
-Mom's Blueberry Almond Fluff (Careful This Is Dangerous!)
-Yummony Lemony Hummus Grab n Go (Blended Yum)
-The "I'm Not Starving Anymore" Spinach Dip (Fights Insane Man Hunger)
-And More!!!!!