Why You Can Eat 12 Cookies
But NOT 12 Hard-Boiled Eggs!
April 11th, 2012
---
This is an important article to read because it contains an idea that is essential to success with any form of weight loss.
Read The Article Here:
Natural Weight Loss: 5 Science-Based Tips You Can Use Right Now
One of the five steps is getting rid of carbs and sugar during breakfast. This might sound like a simple suggestion, but when you actually try doing this, it becomes a bit harder!
You will realize that we have been conditioned to consume grains and other foods that either raise insulin levels or directly raise blood sugar, which makes losing weight challenging.
If, on the other hand, you consume high-protein vegetables and some clean animal protein like wild salmon or sardines, you'll find that it is a lot easier to lose weight in an effortless manner.
The article also says that "If time isn't on your side and making breakfast seems a herculean chore, have a protein smoothie. Load two scoops of MediClear SGS with berries, coconut milk, and Medibulk. Bam. You're out the door in less than five minutes."
Good advice! Read the rest of the article and find out the other four tips here:
Natural Weight Loss: 5 Science-Based Tips You Can Use Right Now
---
Related PEERtrainer Articles:
Fresh Start Cleanse Q/A, September 2012
Hormone-Sensitive Lipase Unlocks Your Fat
How To Get Rid Of Belly Fat
Leptin Tells Your Brain To Stop Eating
Natural Weight Loss
The PEERtrainer Cheat System
The REAL Reason You Lose Weight On A Cleanse
How To Do Low Carb The Right Way
Three Things You Must Do To Burn Belly Fat
The Worst Thing To Do When Trying To Lose Weight
Weight Loss Resistance
---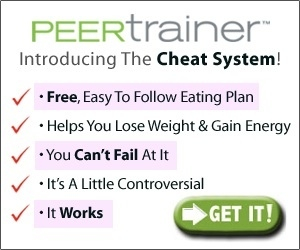 Share This With A Friend
Would You Like To Be Alerted The Next Time PEERtrainer Publishes An Article?
Just Enter Your Email Below And You'll Get On Our List!
Recent PEERtrainer Community Discussions